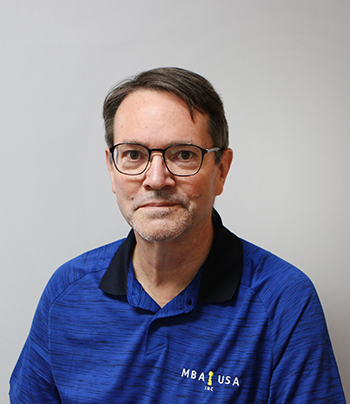 Mark Bates has worked in the lock industry for more than twenty-five years, starting as a locksmith and safe technician. In 1993 he founded MBA USA, Inc. which has grown to be a leading provider of security education and equipment.
Mr. Bates is a longtime member of the Associated Locksmiths of America (ALOA), the American Society for Industrial Security (ASIS), and the Safe and Vault Technicians Association (SAVTA). In 2000 he was inducted into the SAVTA Hall of Fame. Mark is the author of the reference book "Modern Safe Locks", and has contributed articles to leading industry journals.
In addition to his duties as instructor at MBA, Mark has conducted classes for ALOA, SAVTA, and for numerous regional associations. These classes have taken Mr. Bates throughout the U.S. and Canada, to England, Germany, Spain, Denmark, Austria, Italy, and the Middle East. From these travels, Mark has developed a deep understanding of locks and security from a global vantage point. Mark is also an ACE Certified instructor through the ALOA Security Professionals Association, Inc.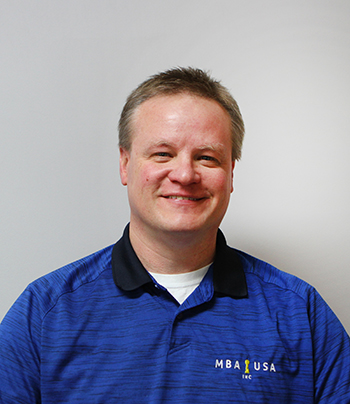 Chuck has been in the physical security field for 21 years. He owned and operated a locksmith shop for 12 of those years. In those 21 years he has had many unique opportunities to work with many branches of the government, and law enforcement, and brings a wealth of knowledge in covert and surreptitious entry techniques. No stranger to education, Chuck has thousands of hours under his belt instructing technical courses throughout the world. Chuck is also an ACE Certified instructor through the ALOA Security Professionals Association, Inc.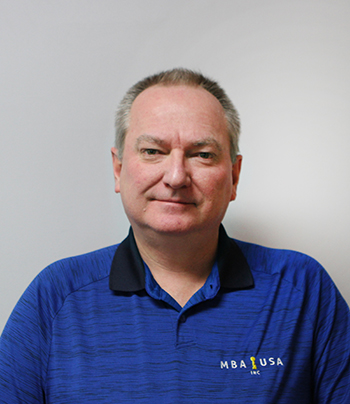 Andy Dennison has been a locksmith since 1990 and an instructor since 1999. His experience covers a wide variety of locksmithing services with the majority of his time spent in the area of safes, vaults, and GSA containers. Before becoming a locksmith, he served four years in the U.S. Navy and another four years in the U.S. Naval Reserve. After working for 15 years at major locksmith company in the Washington, DC area, he moved to Kentucky to work for MBA USA, Inc. as a full-time instructor in 2006.
Mr. Dennison has been a certified instructor for Mas-Hamilton/Kaba-Mas since 1999. He is also a factory authorized instructor for Sargent & Greenleaf, an ACE Certified instructor and Certified Master Locksmith through the ALOA Security Professionals Association, Inc., a Certified Master SafeTech through the Safe and Vault Technicians Association, and is certified by the US General Services Administration (GSA) to conduct GSA certification courses.
Mr. Dennison is recognized as an authority on both mechanical and electro-mechanical locking devices with over 27 years' experience installing, servicing, and troubleshooting numerous common and obscure mechanical and electro-mechanical locking systems. He is also a recognized authority on GSA approved security containers and vault doors and is the author of the bestselling reference book, "GSA Container Identification".
John Falle is the brilliant designer of scores of ingenious lock opening tools, and his enthusiasm and genius is evident in his superb classes. John is the designer of numerous advanced opening tools, as well as the renowned Falle Pick Set. Mr. Falle's services are available in North America exclusively through MBA USA. Please contact us for your training requirements concerning John's advanced equipment, and we will give you a quotation. These courses require up to one year advanced notice to schedule, and are available only to select government agencies.
Martin is a recognized expert on lever-type key locks, and has extensive knowledge of other mechanical locking devices. He has a background as a covert-entry specialist, making him an ideal instructor for our tactical training courses. As a partner in the U.K. firm, "Safe Ventures", Martin keeps his expertise up-to-date with constant practice in the field. Available to select government agencies.
Ed is an automotive locksmithing specialist with many years working in the automotive industry. Ed is a consultant to many manufacturers of automotive locksmithing related tools and equipment and is a Certified ACE Instructor, a long time member of ALOA and has taught automotive locksmithing classes at ALOA conventions and at ACE class events. Ed is the 2006 recipient of the ALOA Continuing Education (ACE) Instructor of the Year award which is presented annually by the ALOA Training Department.