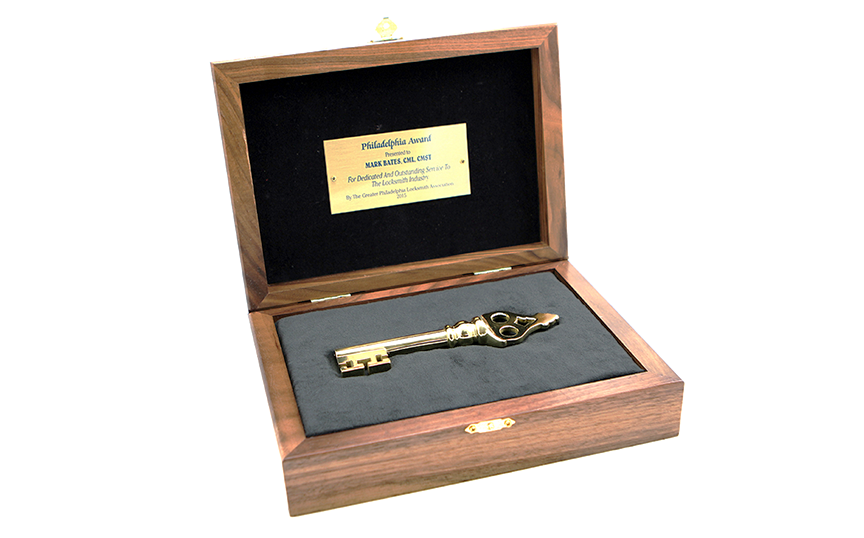 MBA USA is pleased to announce that Mark Bates, CML CMST, President and CEO of MBA USA, received the Philadelphia Award during the Saturday banquet of The Greater Philadelphia Locksmith Association 2015 Convention.
The award was granted, as its nameplate reads, for "Dedicated and Outstanding Service to the Locksmith Industry."
"I have been deeply honored and humbled, and greatly moved by this experience," Mark Bates said. "I would like to thank not only those involved with The Greater Philadelphia Locksmith Association and the presentation of this award, but also the great members of the locksmith industry with whom I've had the pleasure of working alongside for more than 25 years."
The Philadelphia Award has been awarded annually since 1953, and has been awarded to industry members including Barney Zion ('53), Harry C. Miller ('57), James Taylor ('66), Lee Rognon ('75), Billy Edwards ('88), Brian Costley ('97) and Skip Eckert (2013).
Mark Bates was the Philadelphia Award's 66th recipient.
About Mark Bates:
Mark Bates began his career as a locksmith and safe technician in the early 1980s, and would later found MBA USA, Inc. with his wife, Paula, in 1993. Over the past 23 years, MBA has grown to become a leading provider of security education and equipment, employing a staff of highly knowledgeable, specialized lock experts and instructors.
To learn more about Mark Bates and MBA USA, Inc., visit mbausa.com/about-us.
Recent Posts
MBA USA is pleased to announce that Mark Bates, CML CMST, President and CEO of MBA USA, received the …

MBA USA, Inc. is pleased to announce the launch of an all new website! The new interface will o …

Alongside the launch of an all-new website, MBA USA, Inc. is pleased to jump into the world of socia …